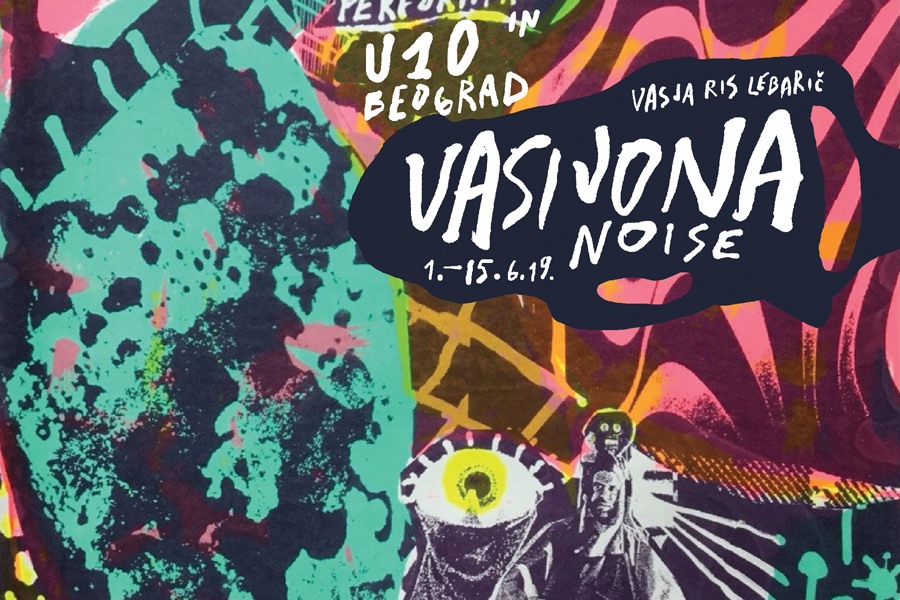 Vasijona Noise
Povodom jubilarnog desetog izdanja festivala Novo Doba, AKC Matrijaršija i Novo Doba festival predstavljaju izložbu i koncert 1. juna u galeriji U10 od 20h:
Iz svemirske stanice Czentrifuga, iz dalekog svemira, preko galaksije Grejpfrut, preko sedam hemisfera, kroz crne rupe i zvezdanu prašinu dolazi Vasijona i predstavlja Svemirsku tišinu.
Šta se to čuje? Neko zujanje? Vasijona se skuplja u jednu tačku i sprema se da eksplodira! Jedan novi veliki prasak! Drugačiji zvuk iz svemira! Opasne frekvencije! Početak jedne nove priče. U prostoru sve zveči – slike vrede više od hiljadu reči.
Vasja Ris Lebarič (1975). Rođen u Kopru, Jugoslavija. Studirao slikarstvo na Akademiji likovnih umetnosti u Ljubljani i vizualnu kulturu na Univerzitetu umetnosti Berlinu. 2007 magistrirao na Akademiji u Ljubljani. Radi u grupama Grejpfrut (Ljubljana) od 1991. i Czentrifuga (nekad Fleischerei, Berlin) od 2001. godine.
/
In anticipation of the tenth jubilee edition of Novo Doba festival, AKC Matrijaršija and Novo Doba festival present an exhibition and a concert:
From the space station Czentrifuga, from beyond the known universe, across the Grapefruit galaxy and over the seven hemispheres, through black holes and star dust, comes the Vasjaverse to present the Space Silence. What's that sound? Some kind of hum? The Vasjaverse is shrinking to a singularity and is about to explode! A new Big Bang! A different sound of the universe! Dangerous frequencies! The beginning of a new story. In space everything rings – images are worth more than a thousand words.
Vasja Ris Lebarič was born in 1975, in Koper, Yugoslavia. He studied painting at the Academy of Fine Arts in Ljubljana, Slovenia and visual culture at the Universität der künste in Berlin. In 2007, he received his Master's degree at the Academy of Fine Arts in Ljubljana. He has worked with collectives Grejpfrut (Ljubljana) since 1991 and Czentrifuga (Berlin) since 2001.
Koncerti/concerts: "Vasijona & Out of the box"
https://www.facebook.com/events/1686626084814321/